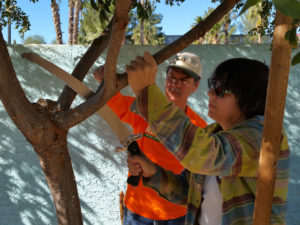 Tree Pruning 101 with Steve Priebe
February 3, 2018 – 9am – 11:30am
Tuition: $15
All proceeds will support Mesa Urban Garden and Trees Matter.
Class is limited to 15 people.
Join us for a hands-on Tree Pruning Class with Certified Arborist and past President of the Arizona Community Tree Council, Steve Priebe. This class will focus on the best principles and practices for pruning trees as promoted by the International Society of Arboriculture (ISA), the organization that sanctions certified arborists and certified tree workers. The ISA certifies only those arborists who complete its rigorous six-point credentialing program. This class will consist of one-hour of classroom instruction followed by 90 minutes of outdoor instruction and practical work at the Mesa Urban Garden. Come learn from an expert!
Topics Covered:
What to trim & why
Which branches should I prune?
How do I make the proper cuts?
What tools do I need?
How do I prune for the health of a tree?
When is the best time to prune a tree?

Class requirements: – Water bottle, sunscreen, hat, garden gloves

Optional:

bypass pruners (both hand and loppers) with sheath/scabbard
tree saw with sheath/scabbard
(bringing your own pruners & saw is needed for the hands-on portion of the class)

Looking to buy bypass pruners, loppers or a saw?
Steve suggests getting the highest quality tool you can afford. Quality brands include ARS, Silky, Felco, and Corona (find them at box stores, nurseries, wholesale irrigation stores, or Artistic Arborist in Phoenix).

Bypass pruners & loppers are best for trimming living trees and give a much cleaner cut, which leads to a healthier prune. Anvil loppers and pruners tend to crush the material that is being cut and should not be used with living material.

Tree pruning saws make a wider, coarse cut, as opposed to a saw for lumber which makes a finer cut. The wider, coarser cut allows for a faster, more accurate prune and is appropriate for living material.
PURCHASE YOUR TICKET: